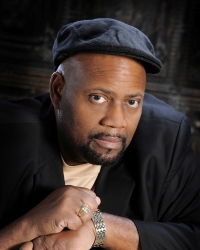 BIOGRAPHY:
Charles Wilson, has been tagged as "The Crown Prince of Soul" for a reason. Being the nephew of the late great blues legend, Little Milton, Charles grew up in Chicago. He began performing at age seven and started singing as a teenager in Chicago area nightclubs. Blessed with his unique soul voice, Charles became a fixture on the soul circuit performing original songs, covering 70's music and Motown Soul classics.

His first break came when he got the opportunity to go on the road with legendary Bobby Rush. He waxed his first single in 1978, "You Cut Off My Love Supply," produced by Simtec Simmons. His next effort, "Trying to Make a Wrong Thing Right" was produced by the late L.V. Johnson in 1984 on AlleyCat Records. This recording established him as a soul singer of note. He became more firmly established in the soul market cutting his first full album "Blues In The Key Of C" for Ichiban Records in 1990. His recording of "It's Sweet On The Backstreet" (1995 with Ecko Records) continued his success. This recording helped Ecko Records move forward as a new label with respectable sales and made inroads in soul radio with songs like "In The Room Next To The Room". He followed in 1997 recording "Why" on Traction Records for James Bennett. Returning to Ecko records in 1998, he scored his first major hit in the soul market with "Love Seat." Teaming with Ecko Records he continued with the risqué themes with two releases "It Ain't The Size" (1999) and "Mr Freak" (2000).

Looking to expand his horizons, Charles recorded a bona fide blues project with Delmark Records, "If Heartaches Were Nickels". This recording received great acclaim earning Wilson a W.C. Handy nomination for Best Soul/Blues Album" in 2005. The recording featured featured his uncle, the late great Little Milton and Chicago mainstay Carl Weathersby on guitar.

In 2009, he recorded a 60's type soul CD for Severn Records with entitled "Troubled Child" gaining yet another W.C. Handy Award nomination for Soul/Blues Album of the Year in 2010.

Wilson's music is as timeless as James Carr, Johnny Adams and Al Green oozing soul and blues. He has worked with or shared stages with all the greats including Bobby Bland, Junior Walker, O,V. Wright, Junior Wells, Buddy Guy, Koko Taylor, Albert Collins, ZZ Hill, Edgar Winter not to mention his late great uncle Little Milton. Some the noteable venues in the United States include the Chicago Blues Festival, King Biscuit Blues Festival and the Waterfront Blues Festivals. Overseas appearances include the PIazza Blues Festival and the Lugano Blues Festival.

As can readily be seen by his accomplishments, Charles Wilson has the bloodline and the talent to deserve his title as "The Crown Prince of Soul". He comes from the old school and delivers in a big way. Look for a new project to be recorded and released in June of 2015 that promises to deliver perhaps his greatest recording to date.